Search a large catalog (gen-srch)
If you have a larger list of items to sell, you should use the "gen-srch" (for "generate search form") interface.
For an online example of this interface, see http://www.netstores.com/dwos-bin/gen-srch?mal or http://www.netstores.com/dwos-bin/gen-srch?ent (use "1" for the account number and "captain" for the password.
See "Setting up the search (gen-srch) interface" for details on setting up this type of store.
The storefront for this interface includes your introductory text and images plus a search form that lets your customers quickly find the products they want. The ordering system uses flat ASCII files to generate search forms and search results.
This interface works best with customers who already have an idea of what they are looking for and what you sell. For example, this interface is great for repeat customers and wholesale customers.
You can decide whether customers can search the catalog without entering an account number. For example, you may want wholesale customers to enter their account number first so that you can provide automatic discounts for certain customers.
Here's an example of the first page in the "search large catalog" interface.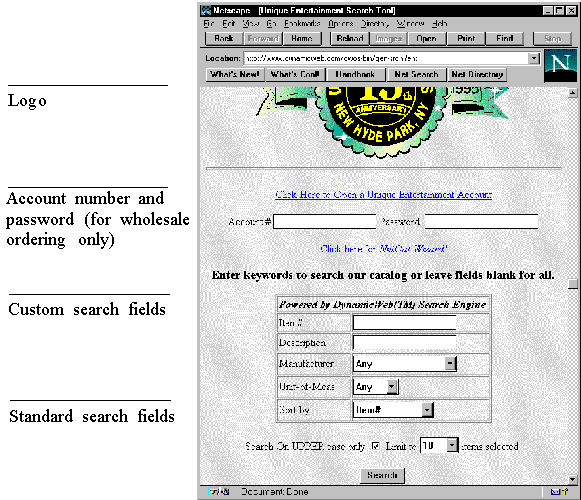 You can control the page background and colors, the store logo, and the list of search fields.
Customers type or select values in the fields you provide. When they click "Search", they see a list similar to this: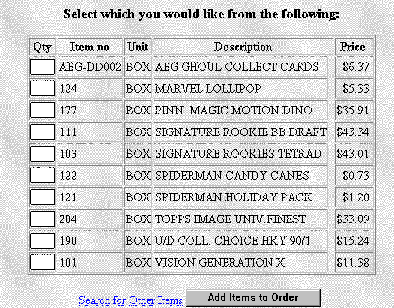 Then, customers specify a quantity for the items they want to order and click "Add Items to Order". They see an Order Acceptance form similar to the one for the Small Catalog interface.

From this point on, the purchase process is the same as the purchase process for the Small Catalog interface.
In summary, the pages that make up a large catalog interface are organized like this:

Copyright © 1996 NetStores