Order configured products (gen-conf)
If you sell a product in various configurations, you should use the "gen-conf" (for "generate configuration") interface. This interface lets your customers fill out a form that answers all your questions about the product's configuration.
For an online example of this interface, see http://www.netstores.com/dwos-bin/gen-conf?sws5.html+integrix (use "1" for the account number and "captain" for the password.
See "Creating an interface for configured products" for details on setting up stores that use the configured product ("gen-conf") interface.
This interface is an extension of the Search a large catalog (gen-srch) interface. First, create the files needed to use the gen-srch interface. Then, you can add support for the gen-conf interface.
For example, if you sell computers, you will want your customers to make decisions about speed, amount of RAM, monitor size, and more.
If you sell one product with multiple configurations, this interface can act as your storefront. If you sell several products, and some of them have multiple configurations, you can integrate this interface into your store.
Here's an example of a page for ordering a configured product.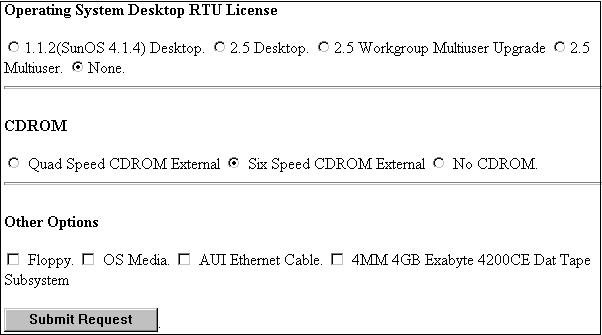 When customers submit a request using the configuration form, they see an itemized configuration list similar to this: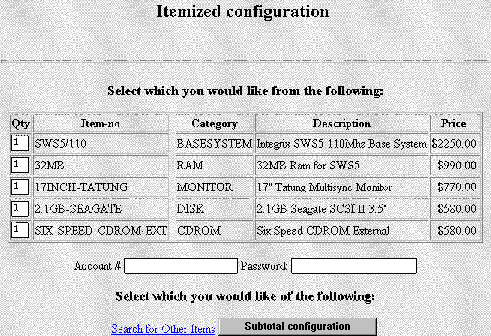 When customers request a subtotal for the configuration they selected, they see an Order Acceptance form similar to the one for the Small Catalog interface. From this point on, the purchase process is the same as the purchase process for the Small Catalog interface.
In summary, the pages that make up a configured product interface are organized like this:


Copyright © 1996 NetStores